Hey Rachel,
I was just posting on here to give you and update on the two hammies that you let me adopt. Pringles (marsh) is a really loveable hamster now. He enjoys being held and kissed. He doesn't jump out of your hands at all anymore. He lets my 4 year old niece hold him and just crawls around her lap. He doesn't seem to have the hang of the ball yet. I put him in it to run around the floor and he just leans forward a little bit but not enough to get the ball moving. Its kind of funny to watch him try. It takes him a couple to minutes until he gets going. He also comes when you call him. He is a great hammie.
Now vincent is adorable. He is still a little nervous when your holding him but once he realizes you aren't going to hurt him he relaxes. He doesn't mind being kissed either but the movements need to be slow. I am just letting him come around in his own time. I try to go get him out of his cage daily for a little while. He loves the ball. He goes zooming around the house in it. I think he likes getting out of his cage. There is only one thing that he does that bothers me and I don't know if you know how I can get him to stop. I haven't been able to find anything that he will chew on besides the inside of his cage. I don't want him to get hurt on the sharp plastics that he is making but he won't chew the chew sticks or I got one of those edible logs for him with the treats inside. He leaves them alone and just naws on the cage. I don't know what else to try.
Well thanks again for trusting me with those two guys and I think they are happy too!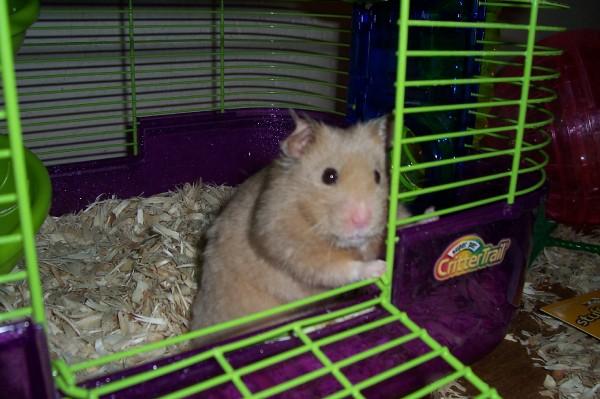 Pringles is the orange and white hammie and Vincent is the grayish dude!



Posts

: 6


Join date

: 2009-01-18



How are vincent and Pringles doing now?
I have had many hamsters still gnaw on the bars of their cage even with chew toys and many things to do to keep them occupied. I always fear they may damage their mouth or teeth doing this. The only solution I know of is having them inside of an aquarium with a screen top (although some hamsters will climb the water bottle and then chew on the screen top) or build your own bin cage, out of a storage bin. This alleviates the bars in their home.
Admin




Posts

: 78


Join date

: 2007-12-12



hey Rachel...
I'm sorry to have to inform you of this but sadly vincent and pringles have passed away. I don't know what happened to them. THey seemed fine when i went to bed but they were dead in there cage when I went to them the next day. Both died the same way but not on the same day. Its been a few months now. On good news the two girls chile and jalapeno are doing great and are still their rambuctious selfs!
Jessica



Posts

: 6


Join date

: 2009-01-18



Sweet Vincent and Pringles, I know they is sorely missed. What happened to them before they passed? I know a couple of Syrians we cared for developed round, hard abdomens. When we took both to the vet we found out they had a mass (tumor) inside them . We even tried to have Bean's tumor removed, but it was surgically impossible and we opted to have him put to sleep, instead of suffering day to day with a tumor growing larger.
I am happy that the silly little Robos are still as active as can be.
Admin




Posts

: 78


Join date

: 2007-12-12





Similar topics
---
Permissions in this forum:
You
cannot
reply to topics in this forum